Ground Beef and Rice Casserole
Ingredients
1 Lb. Ground Beef
1 1/3 Cup Rice (Minute Rice)
1 Small Onion, Chopped
2 Tbsp. Butter
1 Can (14-16 oz) Tomato Sauce
1/4 Cup Water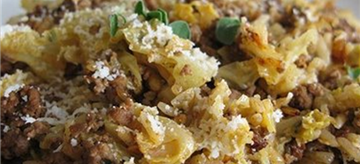 Directions
Pre-heat oven to 375 Degrees.
Saute Onion in Butter. Place Rice in casserole dish(grease first). Top with cooked onions.
Add Salt and Pepper to Ground Beef and brown in alarge frying pan.
Arrange beef on top of casserole. Combine saucewith Water and pour onto casserole.
Bake uncovered, for 35 minutes.
* Variation: Add Diced Celery.
If you love it, please share it: