Lemon Basil Sorbet
Ingredients
3 cups water
2 cups granulated sugar
2 tablespoons lemon zest, divided
1½ cups packed fresh basil (if a stronger basil flavor is wanted, use 2 cups)
pinch salt
3 cups fresh lemon juice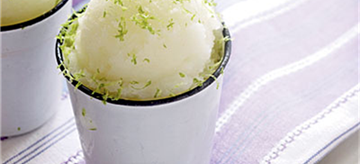 Directions
Prepare a lemon simple syrup with the water, sugar and1½ tablespoons of the lemon zest by combining all threein a medium saucepan set over medium-low heat.
Cook mixture until the sugar is fully dissolved. Remove from heat.
Once the simple syrup is ready, add the basil and salt. Let the mixture steep for 30 minutes. Stir in the lemonjuice. Cover and refrigerate 2 to 3 hours, or overnight.
Strain the chilled mixture through a fine mesh strainer. Turn on the Cuisinart® ice cream maker; pour the mixtureinto the frozen freezer bowl and let mix until thickened, about 15 to 20 minutes.
When the sorbet is almost done, add the reserved zest through the opening on top of theice cream maker and let churn until combined. The sorbet will have a soft, creamy texture.
If a firmerconsistency is desired, transfer the sorbet to an airtight container and place in freezer for about 2 hours.
Remove from freezer about 15 minutes before serving.
If you love it, please share it:
You might also like:

Coconut Sorbet
Vegetarian
Dark Chocolate Sorbet
Vegetarian
Raspberry Sorbet
Vegetarian