Coconut Sorbet
Ingredients
1½ cups water
1¹/³ cups granulated sugar
1 whole vanilla bean, halved and seeds scraped
pinch salt
2 cans (13.5 ounces each) unsweetened coconut milk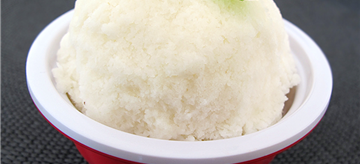 Directions
Combine the water, sugar, vanilla bean (including the pod) and salt in a medium saucepan set over medium-lowheat. Bring mixture just to a boil and then remove fromheat. Let mixture steep for 1 hour; strain (discarding pod).
Add the coconut milk to the strained mixture. Cover andrefrigerate overnight.
Turn on the Cuisinart® ice cream maker; pour the mixture into the frozen freezer bowl and let mix until thickened, about 15 to 20 minutes. The sorbet will have a soft, creamy texture.
If a firmer consistency is desired, transfer the sorbet to an airtight container and place in freezer forabout 2 hours.
Remove from freezer about 15 minutesbefore serving.
If you love it, please share it:
You might also like:
Dark Chocolate Sorbet
Vegetarian
Raspberry Sorbet
Vegetarian

Lemon Basil Sorbet
Vegetarian