Lowfat Strawberry Frozen Yogurt
Ingredients
4 cups lowfat plain yogurt, strained through
a cheesecloth* for 2 to 4 hours
½ cup granulated sugar
pinch salt
1 teaspoon pure vanilla extract
2 tablespoons light corn syrup
1 pound frozen mixed berries
1½ tablespoons honey
1½ tablespoons fresh lemon juice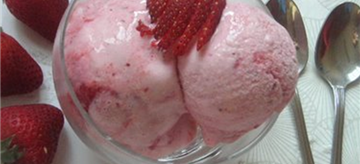 Directions
In a large bowl, whisk the strained yogurt with the sugar,salt, vanilla and corn syrup; reserve.
In a medium saucepan, heat the berries, honey andlemon juice on low for about 10 minutes, or until justsoftened. Strain, discarding liquid, and cool. Once theberries are cooled, stir into the yogurt/sugar mixture.Cover and refrigerate 2 to 3 hours, or overnight.
Turn on the Cuisinart® ice cream maker; pour the mixtureinto the frozen freezer bowl and let mix until thickened,about 15 to 20 minutes. The frozen yogurt will have asoft, creamy texture. If a firmer consistency is desired,transfer the frozen yogurt to an airtight container andplace in freezer for about 2 hours. Remove from freezerabout 15 minutes before serving.
* If you do not have a cheesecloth, you can use a coupleof layered paper towels.
If you love it, please share it: