Pumpkin Cheese Cake
This lovely cake has that smooth and velvety texture that only cheesecakes can have, while at the same time having the subtle flavor of pumpkin and its complementary spices.
Ingredients
225g/8oz digestive biscuits
60g/2oz butter
juice and zest 1 lemon
340g/12oz cooked pumpkin (steamed or roasted)
225g/8oz caster sugar
450g/1lb cream cheese
1 tsp ground cinnamon
2.5g/½ tsp freshly grated nutmeg
4 eggs
90ml/3fl oz double cream
90ml/3fl oz natural yoghurt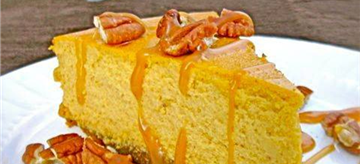 Directions
Heat the oven to 170C/325F/Gas 3.
Bash the digestive biscuits into crumbs. Melt the butter over a low heat and mix in the biscuit crumbs and lemon zest. Lightly grease a 25cm/10in loose-bottomed cake tin and press the crumbs into the base and up the sides slightly.
Mix together the cream cheese, pumpkin flesh, sugar, cinnamon and nutmeg until smooth. Beat the eggs and fold into the pumpkin mixture. Turn into the tin and bake in the oven for 90 minutes until the surface is set but the underneath still slightly squidgy.
Take the cheesecake out of the oven and let it cool in the tin. When cool, turn it on to a serving plate, cover with foodwrap and chill overnight.
Whip the double cream until thick and fold in the yoghurt and the lemon juice. Spread over the top of the cheesecake and serve at room temperature.
If you love it, please share it: