Turkey Soup Slow Cooker Style
A tasty soup made from leftover turkey, topped with delicious dumplings. You can make the most of even the smallest pieces of leftover meat on your holiday turkey.
Ingredients
1 pound ground turkey
1/4 teaspoon pepper
1/4 teaspoon oregano
1/4 teaspoon basil
3 teaspoons beef bouillon
3 cups boiling water
8 ounces tomato sauce
1 tablespoon soy sauce
1 cup celery, diced
1 cup carrots, diced
1 large onion, diced
1 cup fresh mushrooms
1 cup green pepper, diced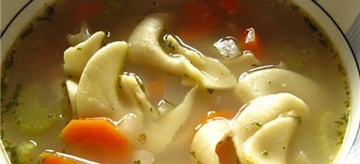 Directions
Add all ingredients except sliced mushrooms to slow cooker
Cover and cook on low for 6 to 8 hours.
Add mushrooms and turn up to high for 10 to 15 minutes.
Serve with rolls or garlic bread.
If you love it, please share it: