Marlboro Chuckwagon Stew
This is the perfect dish to eat after an afternoon spent working or playing outside in the cold. This classic beef stew will surely please the men of the house.
Ingredients
2 1/2 pounds beef stew meat
2 tablespoons flour
1 tablespoon paprika
1 teaspoon chili powder
2 teaspoons salt
3 tablespoons vegetable shortening
2 onions, sliced
1 clove garlic, minced
1 (28-ounce) can tomatoes, un-drained
3 tablespoons chili powder
1 tablespoon ground cinnamon
1 teaspoon ground cloves
1/2 teaspoon crushed red pepper
2 cups cubed potatoes
2 cups sliced carrots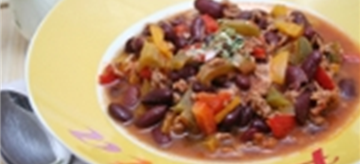 Directions
Coat beef in mixture of flour, paprika and 1 teaspoon chili powder and salt. Brown in melted shortening in a large Dutch oven, slowly. Add onions, garlic and cook until soft.
Add tomatoes, 3 tablespoons chili powder, cinnamon, cloves and crushed red pepper. Cover and simmer 2 hours.
Add potatoes and carrots and cook until vegetables are done, about 45 minutes.
If you love it, please share it: