Chinese Chicken Salad
- China
Ingredients
3/4 lb chicken breasts

2 tsps salt

2 tsps roasted sesame seeds

1/2 lb iceberg lettuce, finely shredded

2 tsps rice vinegar
Sauce:
1 garlic clove, minced

1 slice fresh peeled ginger

2 green onions, green top removed

2 tsps chili bean paste

2 tsps dark soy sauce

1 tsp sugar

2 tsps rice vinegar

2 tsps peanut butter

1/2 tsp salt

1/2 tsp ground black pepper

2 tsps toasted sesame oil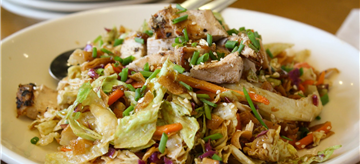 Directions
Remove skin from the chicken breasts and place the chicken in a pot.

Pour in enough cold water to cover the chicken and add the salt.

Bring the mixture to a simmer and cook for 5 minutes.

Turn off the heat and cover tightly, let it stand for 10 minutes.

Meanwhile, mix all the sauce ingredients and blend well.

Toss the lettuce with rice vinegar and place on a serving platter.

Remove the chicken from the pot and allow to cool.

Pull the meat off the bone, shred it, and toss it with the sauce.

Place the chicken and sauce on top of the lettuce and serve at once.
If you love it, please share it: