Fried Wantons
- China
Ingredients
30 wanton skins

cooking oil for frying
Filling:
6 oz ground pork

4 oz or 1/2 can water chestnuts, finely chopped

1 tsp water

1 tsp cornstarch

1/2 tsp salt

1/2 tsp cooking wine

1/2 tsp sesame oil

1/4 tsp ground pepper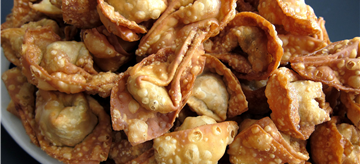 Directions
Mix together all the ingredients for filling, mix until meat and

waterchestnuts are well blended. Divide into 30 portions.

Put 1 tsp of filling in the middle of a wanton skin.

Fold the skin diagonally in half to form a triangle.

Fold the edge containing the filling over about 1/2-inch.

Bring the two points together, moist one inner edge and pinch the

edges together to hold.

Repeat with remaining wanton.

Heat a wok with 1 1/2-inch cooking oil.

Deep-fry the wantons over medium heat until golden brown.

Drain on paper towels and serve.

Makes 30 wantons.
If you love it, please share it: